Ea Pro Pump 10000
Ea Pro Pump are very economical High performance powerful pond pumps
Login to see price
---
Ea Pro Pump 10000 through innovative research and design have been developed to deliver substantial flow rates at comparatively low wattage, the Ea Pro Pump 10000 are very economical High performance powerful pond pumps.
Our range of external, fully marinised pond pumps have been manufactured for maximum reliability and performance. The pump body and bracket is moulded in engineering plastic material for maximum strength, durability and long life.
The design of the adjustable wet end makes the pump very quiet during operation and the Noryl impellor provides maximum strength and durability. The EA Pro Pumps also use low energy consuming motors delivering optimum levels of performance. Connection to pipework is easy thanks to the 2" inlet and outlets and the adjustable wet end.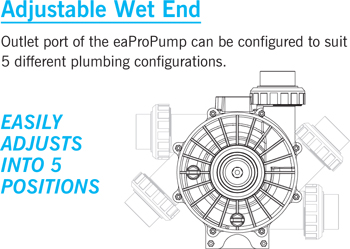 Inline external Pump
Low running costs
Efficient, reliable motor
Large flow rates, 5 models available
Designed for maximum strength
Low energy consumption motor
Noryl impellor for reliable operation
Very quiet operating pump
Adjustable wet end
Salt water seal
IPX5 Rated
Threaded 2" inlet and outlets for easy connection to pipework
Drain down plugs
2m power cable
2 Year Warranty (excludes seal and capacitor)
The Ea Pro Pump 10000 are designed and built to meet the special needs of ponds, waterscapes and aquaculture. Buying "quality" really pays. Ea Pro Pump 10000, not only do you get years of dependable service, but you enjoy tremendous savings on your electricity bill, every month.
The Ea Pro Pump 10000 are set to become the work horses of the industry. Ea Pro Pump 10000 provide tremendous flow rates, with enough pressure (head) to handle the requirements of most systems with biological filters and moderate height waterfalls. The Ea Pro Pump 10000 are also used extensively for the transfer and re-circulation requirements of filtration systems, water features, streams, fountains and aquaculture.
The entire range of EA Pro Pumps including the Ea Pro Pump 10000 are 'marinised' which means they are suitable for use in salt water, swimming pools and fresh water.
The Ea Pro Pump 10000 come with a 2 year warranty. If you are not pumping filter cleaned water, you will need a Ea Pro Pump 10000 strainer basket for your Ea Pro Pump 10000, simply screws onto the inlet of the pump – two models are available depending on which pump you are using.

| Ea Pro Pump | Inlet/Outlet | Flow Rate gph | Flow Rate lph | Max Head | Min/Max watts |
| --- | --- | --- | --- | --- | --- |
| Ea Pro Pump 8000 | 2 inch | 2045 | 9300 | 2.26 m | 87-96 watts |
| Ea Pro Pump 10000 | 2 inch | 2244 | 10200 | 2.41 m | 89-100 watts |
| Ea Pro Pump 12000 | 2 inch | 2574 | 11700 | 2.40 m | 88-104 watts |
| Ea Pro Pump 16000 | 2 inch | 3717 | 16900 | 4.69 m | 193-211 watts |
| Ea Pro Pump 21000 | 2 inch | 4619 | 21000 | 5.25 m | 200 -250 watts |